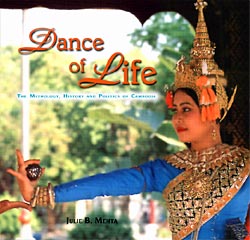 Dance of Life
The Mythology, History & Politics of Cambodian Culture
Julie Mehta

The legacy of Khmer dance is over 1,000 years old, and is an artistic impression of Cambodian culture & folklore. Nearly destroyed during the genocidal rule of the Khmer Rouge's (1975-79), when 90% of Cambodian dancers, along with other creative artists and intellectuals, were murdered mercilessly, this art form is currently enjoying a spirited revival.

This well-researched work, written with refreshing clarity, is the result of the author's passionate interest in the historical & cross-cultural links this art form has shared with India, Java and the rest of Southeast Asia for many centuries.

A decade of detailed study of the art form, a deep understanding of its ancient religious, social and cultural ethos, and a first-hand approach with fascinating anecdotes makes this a highly readable story about the Khmer Classic dance.
"This book will be appreciated by all those who are interested in Southeast Asian Myths, history, politics and art, as well as readers who are interested in the performing arts of Asia. I hope this will also bring the Khmer cultural heritage closer to the many young Cambodians in the diaspora who are living overseas, and have never been to Cambodia."
Professor Tommy Koh, Ambassador-At-Large, Ministry of Foreign Affairs, Director, Institute of Policy Studies, Singapore