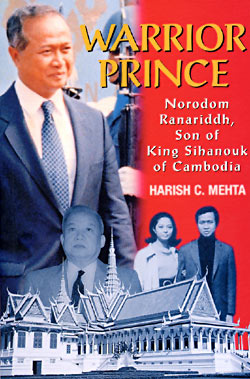 Warrior Prince - Norodom Ranariddh
Norodom Ranariddh, Son of King Sihanouk of Cambodia
Harish C. Mehta

Warrior Prince of Cambodia is the first biography of Prince Norodom Ranariddh, arguably the most successful of King Sihanouk's children. Part royal chronicle, part reportage, it traces the life of Ranariddh from birth, through tragedy to triumphant rise as First Prime Minister, and from his downfall when he was overthrown, to his resurrection. It offers deep insights into the character of Ranariddh and that of his father: how Sihanouk repeatedly let down his son, while offering him the affection of an aloof parent.

The book reveals his deep disappointment when Sihanouk tried to coerce him into disbanding his political party, and told him to join Hun Sen's side. It traces his hard-won victory in the elections of 1993 that saw him become the prime minister alongside his archrival Hun Sen: and how Ranariddh was overthrown and went into exile before making a comeback.
Prince Norodom Ranariddh, touted as a possible successor to Cambodia's King Sihanouk, is torn between a passion for politics and the throne. In a new biography, 'Warrior Prince', the prince touches on the taboo topic of succession. "Of course, as a human being I am facing a great dilemma," biographer Harish Chandra Mehta quotes Ranariddh as saying. "I don't want to praise myself that everyone acknowledges that among the members of the royal family, maybe I am the only one," he said, in reference to his prospects of succeeding his father as constitutional monarch.
Hillary Jackson, Reuters, July 11, 2001; and The Nation, Bangkok, July 12, 2001.